'Group of Death' review: Early ticket for South Korea, China heading home?
09:20 - January 12, 2020 (GMT+8)
Some tense battles in the "group of death" occurred at the first matchday, but what will the future hold for the fate of the teams in Group C?
There was only one winning goal at the 93rd minute separated South Korea U23 and China U23, in such a tense match in which both teams poorly converted their handful of chances. China showed a valiant performance against the cup contender, but their effort was not enough. Furthermore, they have to send home their key striker Zhang Yuning, leaving a team full of burdens in their chances of qualifying from the group stage.
At the earlier match, the reigning champion Uzbekistan dropped their win after scoring the opening goal against Iran. With 6 national players participating that match, they were somewhat dominated by a much more organized Iran, who deservedly grabbed an equalizer later on. The match ended at a stalemate, leaving the fate of the table harder to predict.
South Korea U23, with their quality players at the starting line-up, failed to conquer China U23 at the regular time. They have to bring in their substitutions, which 2 of them created the winning goal.
Certainly, at the next match, manager Kim Hak Bum will have to re-evaluate the team in order to put out the best 11 players for the line-up. Another 3 points, as well as a convincing performance and an early ticket to advance to the next round will be what Woo Yeong Jeong and his teammates aiming for.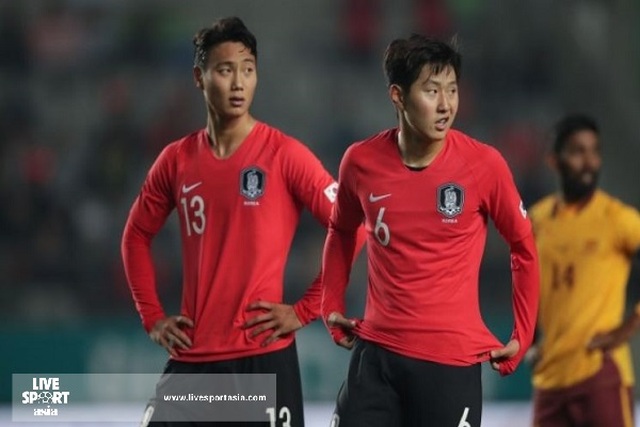 As for China, alternatives for Zhang Yuning will have to be considered. They did not lose the tactics and the state of the match, but the injury time – a moment that requires a lot of determination and concentration – and basically collapsed after the match.
Mr.Fu Bo will have to motivate his players, building up to a performance that could only with luck, they must overcome a high-regarded Uzbekistan to avoid early tickets back home.
Uzbekistan – with the core that had conquered the cup 2 years ago in China – will have to avoid mistakes that could lead to goals conceding in the next match.
Statistics have shown that, although Uzbekistan possessed more ball, with 64% of the game time, they encountered more shots and shots on goal from Iran than they created (16 from Iran compared with 9 from Uzbekistan). Converting possession into opportunities that could lead to goals will be the upcoming task for the champion at the game against China.
With an organized counter-attacking style of football, Iran U23 has shown that they feared no opponents. Long-shot and set-pieces will be two of their attacking forces so as to create another potential upset against South Korea.
As South Korea U23 has posed threats from their bench, Iran will have to prepare for any possible scenarios that could happen, as well as their substitutes, to avoid stepping into China's footpath at the last match.
2 more matches of group C will be in high tension, will tight strategic gameplay. Whoever the winners may turn out to be, they will be much deserved and may have the upper hand in the final round.